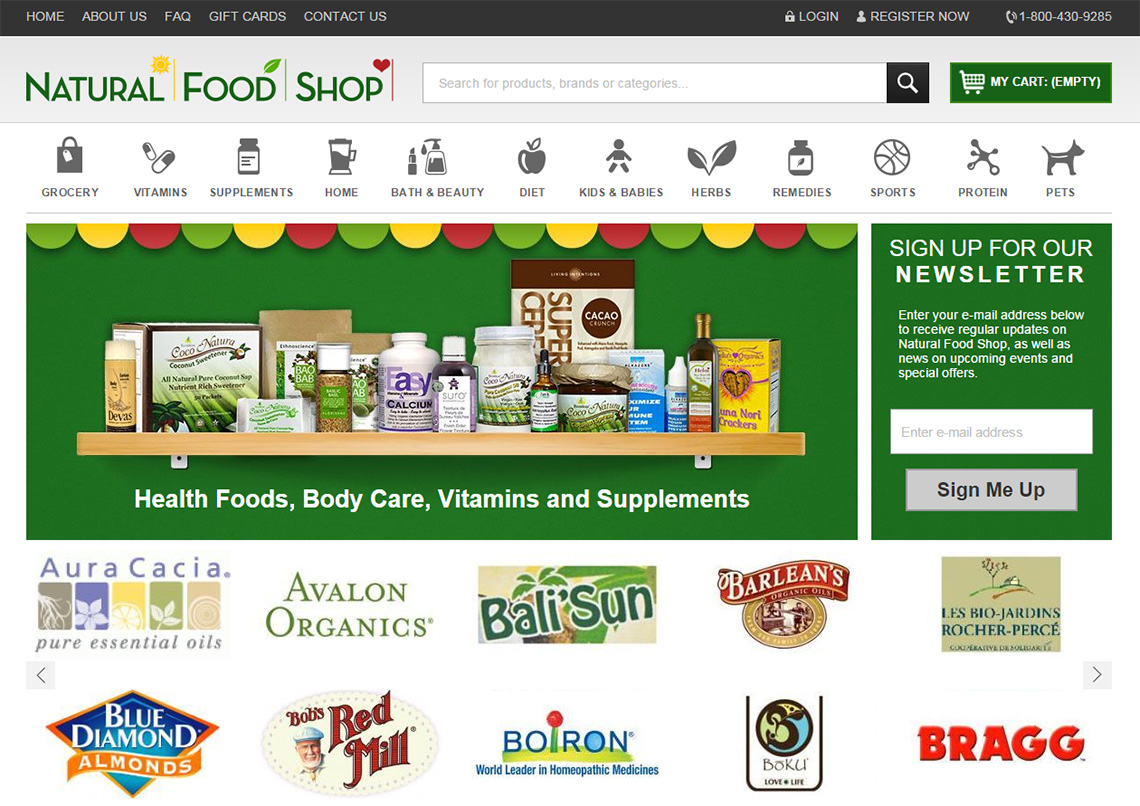 The Client
Based in Toronto, Canada, Natural Food Shop is an online retailer of natural foods and wholesome eco-friendly household products. Founded in 2013, the company's mission is to help customers achieve personal well-being through better, more natural choices in the products we use every day.
The Marketing Challenge
Though relatively new, the first iteration of the Natural Food Shop website was performing below the owners' expectations. It was slow and not responsive, which frustrated mobile and tablet users. The company was spending a lot of money on a Google Search Ad Campaign that was not generating enough sales volume.
The site's search function yielded hit or miss results, and visitors found the navigational menu difficult to use when searching for products.
From a design perspective, the site was missing a good banner image and cohesive structure. There was no way to track sales conversions or sources of leads, and email prospects were not captured.
Perhaps the biggest challenge to day-to-day operations was the inefficient shipping process that put a big strain on limited resources. Order details and customer information like names, phone numbers, email addresses and shipping information were all submitted manually into the Canada Post desktop program.
The Solution
First and foremost, a new site was required – one that was mobile and search engine friendly, and properly set up for efficient e-commerce transactions. Other site enhancements included a clearly organized header and a category menu placed at the top of the page, in immediate view for site users. The new site also features category headings and appropriate category images.
Searchanise, a search plugin that functions like most common search interfaces, was integrated to give customers better, faster search results and related product suggestions.
A newsletter subscription area, fully integrated with Mail Chimp, allows customers to sign up for newsletters and sales promos while collecting valuable email data for the client.
The Google Search Campaign was replaced by a Google Merchant Shopping Campaign. This increased conversions substantially, and had the added benefit of reducing the cost per click from $2.53 to $0.26.
The site was integrated with Amazon Content Delivery Network (CDN) services for page and image caching, which substantially increased the speed of the site.
To address the problem of inefficient order shipping, a sophisticated backend shipping module was developed. The new system seamlessly transfers order information to Canada Post through their API.
Google Analytics was installed to gather valuable consumer data and to track the origins of visitors and sales.
To help keep up a steady stream of traffic to the site, social media pages were built as well as continuous Search Engine Optimization (SEO) along with PR initiatives and a steady stream of fresh content through informative articles and engaging blog posts.
We Deliver Results!
Today, Natural Food Shop receives over 5,000 site visits each month. Employees simply enter the package dimensions and weight on new shipments. This streamlined shipping process saves approximately 10 hours per week in order processing time!
Since the reinvention of their online presence, they have seen substantial new business growth. The client has a thorough understanding of the sources of new leads, and they can act quickly to make adjustments to their product pricing and sales tactics.
As new innovations in e-commerce come to market, we're sure to incorporate these advances in the overall digital marketing strategy for Natural Food Shop.