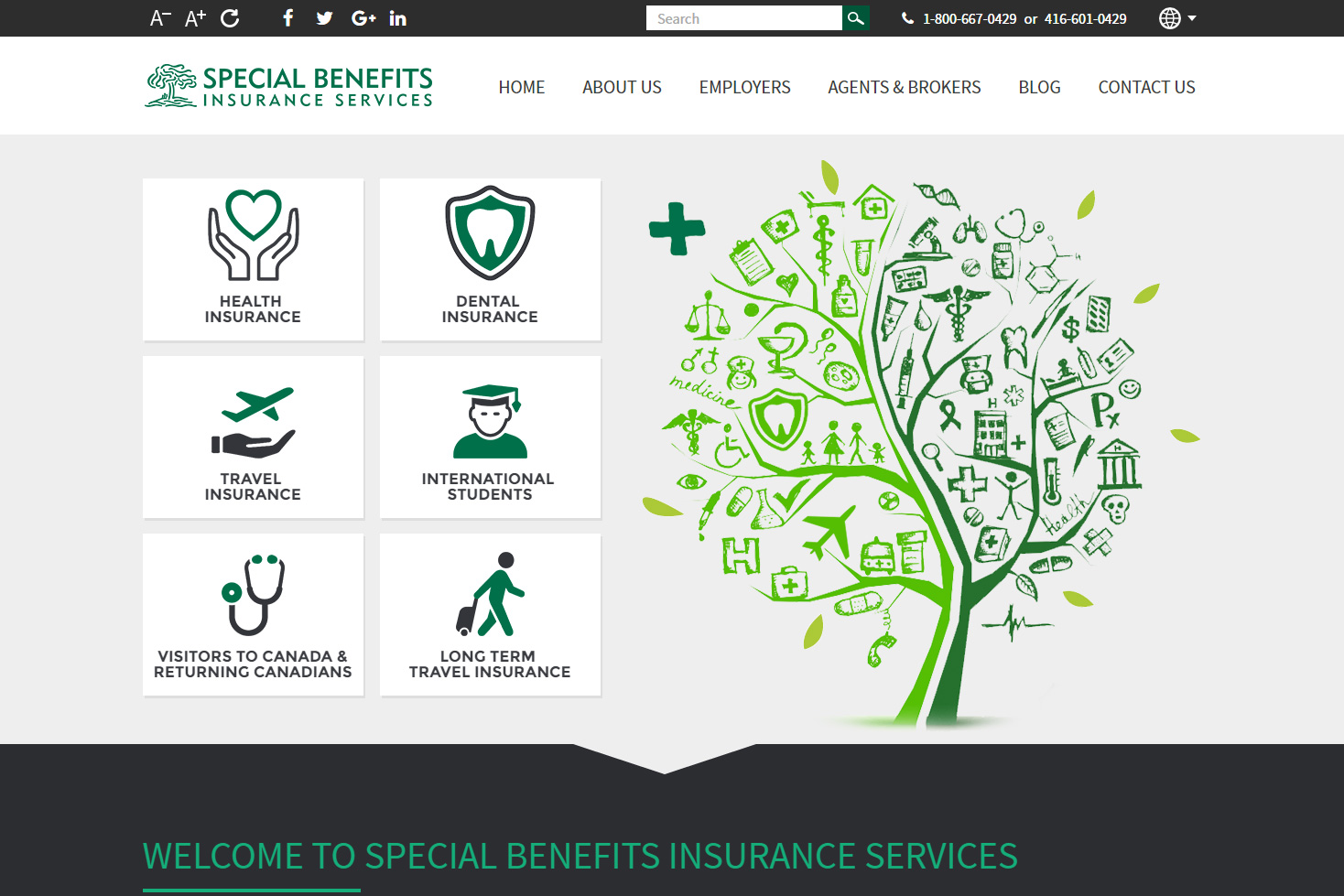 The Client
Special Benefits Insurance Services (SBIS) is an independent insurance broker based in Toronto, Canada with more than two decades of experience in providing innovative solutions to customers in need of health, dental and travel insurance.
Founded on sound principles of stability and financial strength, SBIS matches customers with the right policies for their specialized insurance needs.
The Marketing Challenge
For years, SBIS relied on offline marketing tactics which included print and mail. It was a strategy that worked well, but they knew their future depended on securing a bigger piece of the online pie.
The previous version of the SBIS website was not up to current standards. It wasn't mobile-friendly and the content was sparse.
Understandably, online traffic was low. There were fewer than 800 visitors to the site each month. It was difficult to determine where online visits and sales leads were coming from, and there was no way to track conversions.
Clearly, SBIS needed better tools to reach their customers and prospects online.
The Solution
In an effort to reach new online customers, we completely redesigned the SBIS website, making it search engine-friendly and compatible with mobile and tablet devices.
We incorporated relevant imagery with clearly organized header funnels to quickly show users the array of services SBIS offers as soon as they entered the site.
Guiding users to interact with the site was key to SBIS' online success. Working alongside the marketers at SBIS, using their suggestions we implemented the following:
A chat feature that allows customers to get answers from insurance agents in real time
A translation feature to meet the needs of French-speaking Canadians
Font size controls that allow visually impaired visitors to use the site with greater ease
Other innovations focused on driving traffic to the SBIS site and to convert prospective buyers into customers once they arrived. These measures included:
Partner landing pages allowing insurance partners to promote SBIS solutions
Contact forms to track conversions
Google Analytics to collect valuable data about the origins of visitors and sales leads
Google Adwords: Search, Remarketing and Display Ad campaigns
Continuous Search Engine Optimization (SEO)
Developing a social media presence to drive online traffic from additional sources
PR and Content Marketing through informative articles and engaging blog posts
We understand that our solutions for SBIS will change and grow over time. We stay ahead of the curve with each new technological advance and continue to provide new and innovative digital marketing solutions.
We Deliver Results!
Today, SBIS enjoys monthly traffic rates of over 5,000 visitors per month – an increase of 525 percent in online traffic. Approximately 3,000 of those monthly visits come from organic searches alone.
With detailed metrics on their web traffic, decision makers at SBIS know what specific sources are driving leads from their website. As a result of a solid online presence, SBIS enjoys new business growth.