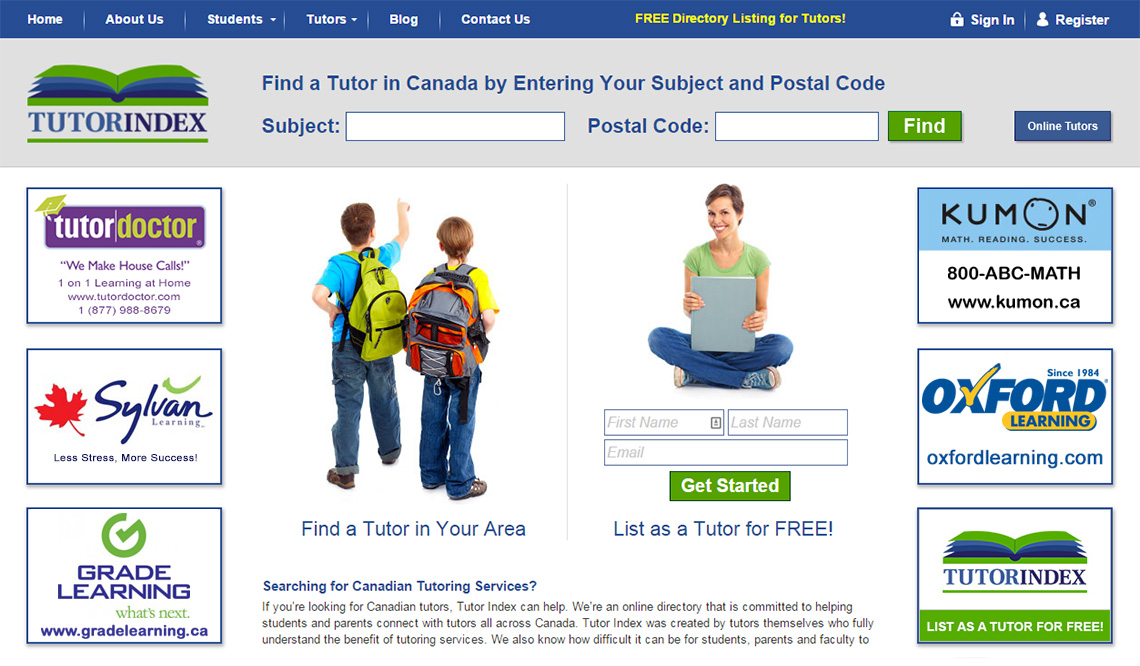 The Client
Tutor Index is an online directory that connects families with local tutors who are available to help students achieve academic success.
Based in Toronto, Tutor Index serves as a valuable marketing resource for tutoring professionals in Canada and the United States by allowing them to advertise their services to prospective clients.
The Marketing Challenge
The first Tutor Index website had several technical challenges. Users frequently complained about issues with the site, especially the checkout errors that tutors experienced when trying to purchase a listing or advertisement.
The site was outdated and did not display properly for mobile and tablet users. There was a distinct lack of proper industry-related images. Additionally, site content was thin and there was little exposure online.
As a result, Tutor Index was receiving fewer registrations than expected.
The process to find a tutor was confusing to students and parents alike. Site users scrolled through more than 200 subjects to find the one they were interested in, and then repeated the process to pick their city from an exhaustive list.
Tutor Index needed a way to communicate with parents, students and tutors and needed a professional newsletter to stay in touch.
The company was unable to determine where site visitors came from, and there was no mechanism to track the sources of successful registrations.
The purpose of the site was unclear. Many inquiries came from those thinking the company offered tutoring services, rather than serving as a directory for tutors.
It was clear they needed better ways to reach their intended audience, and to interact with customers online.
The Solution
The site was redesigned to be mobile and search engine friendly, featuring a clearly organized header with service imagery and funnels. This let new visitors learn more about the company immediately upon entering the site.
The site was split into two, tutorindex.ca and tutorindex.com, to better serve the separate needs of customers in Canada and the United States.
An easy-to-use registration and checkout process was implemented for tutors advertising on the site, and a "Freemium" model was introduced. Tutors can register a free Basic Listing, while Premium Paid Advertisements are more prominently featured. This change ultimately helped to increase registrations, which in turn expanded the audience for paid ads on Tutor Index.
The lengthy dropdown lists were replaced by textbox fields which lets students and parents type in their postal or zip code and/or the name of the subject. Students and parents can also see tutors on a map of their local area.
A tutor rating system lets parents and students leave feedback about their experience with a tutor.
And those looking for a tutor can use the 'Request a Tutor' feature to contact several tutors within the same geographical area.
A newly-created FAQ page and the more robust "Contact Us" section minimizes confusion. Students and parents looking for a tutor are prompted to search the directory rather than submitting an inquiry to the company.
Contact forms on the website track conversions, while Google Analytics gathers valuable data about the nature and origins of site visitors.
The company's newsletter subscriptions are fully integrated with MailChimp. In addition to providing valuable email contact information for Tutor Index, it also allows another channel to reach their target market.
Newly-implemented social media channels provide an additional way to share information and drive traffic to the site.
To ensure a constant flow of new traffic for the site, there is ongoing Search Engine Optimization (SEO) and fresh content through articles and blog posts that inform and engage.
Google Adwords Campaigns for Search, Remarketing and Display Ads continue to generate tutor registrations and attract prospective students and their parents.
We Deliver Results
Today, Tutor Index has over 10,000 registered users. The tutor sign-up conversion rate has increased over 350% since the new site was implemented.
The company understands the sources of sales leads and has enjoyed substantial growth on both sides of the border as a result of their strong online presence.
The digital marketing strategy for Tutor Index is an agile one. As new technologies and opportunities present themselves, we adjust to meet the complex needs of Tutor Index.