Writer's block can be a content marketer's worst nightmare. Fortunately, there's an app for that.
Actually, there are several apps for that.
If you're struggling because you can't find any great ideas for blog topics, you should check one of the many tools online that will provide some much-needed inspiration.
Here are some of the best options that we found.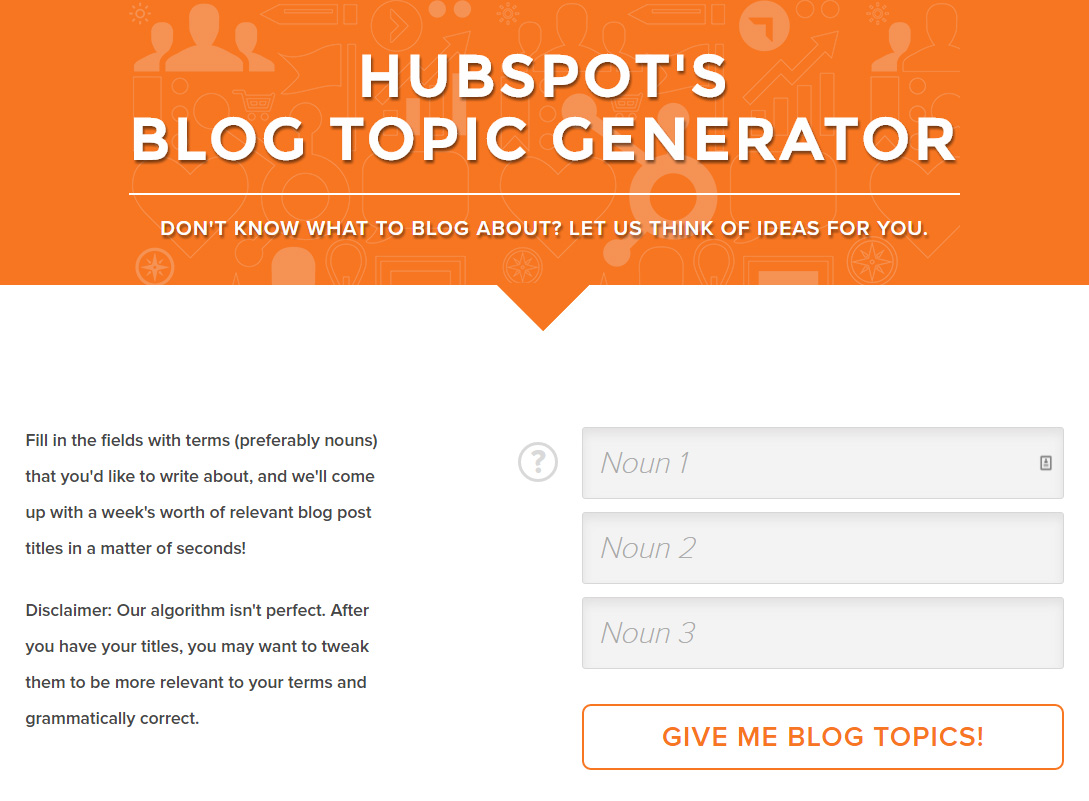 By now, almost everybody in digital marketing has heard about HubSpot. It's a company that offers a suite of online marketing tools to help businesses grow.
One of the reasons that so many people know about HubSpot is not just because of the quality of its service, but because the company runs a blog that offers helpful tips for fellow marketers. In other words, HubSpot has built its brand, at least in part, on content marketing.
But HubSpot doesn't just offer free advice to digital strategists. It also offers a free tool that generates blog topic ideas based on keywords.
Here's how it works: simply fire up the tool in your browser, then enter 1-3 keywords (preferably nouns) that reflect your niche or a topic that your visitors would like to read about. Then, the app suggests a few titles.
No, it won't write the articles for you. Nor will it provide the outline.
It's just meant to be used as a starting point. It's up to you to fill out the content once you have an idea.
For example, we entered "jewelry" as a topic and received the following suggestions:
Think You're Cut Out For Doing Jewelry? Take This Quiz
7 Things About Jewelry Your Boss Wants To Know
The Worst Advice We've Ever Heard About Jewelry
15 Best Blogs To Follow About Jewelry
10 Quick Tips About Jewelry
There are a couple of good options in there. Clearly, the tool follows a formula that might not apply to every niche.
Bottom line: while HubSpot's topic generator might not be your last stop, it's a good starting point.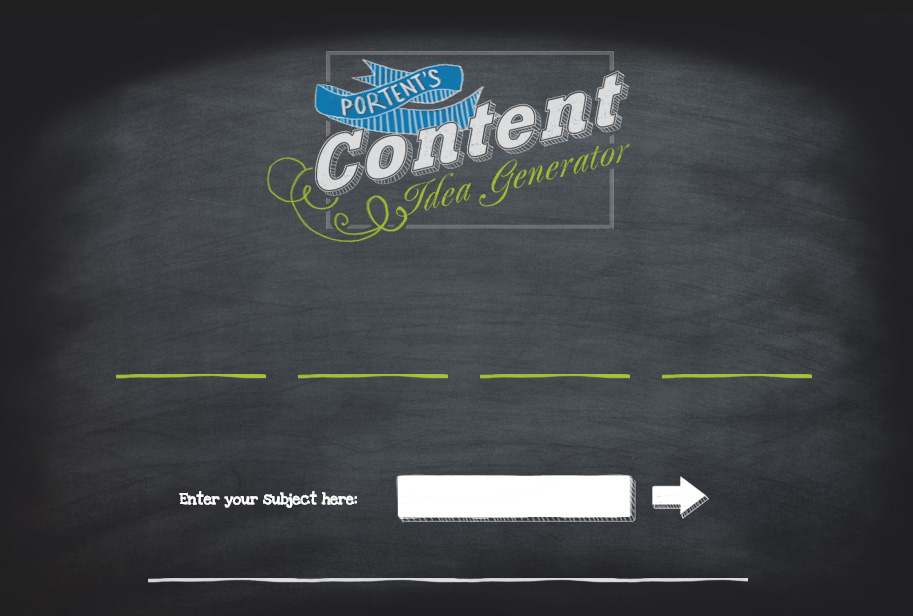 Portent is another digital marketing company, but it isn't as well-known as HubSpot.
It does, however, offer an idea generating tool that's far more entertaining than what's offered at HubSpot.
That's because Portent's tool stems from its corporate personality. If you're unfamiliar with Portent, you can get a pretty good idea about the company when you visit its home page and notice the word "Weird" standing out prominently.
The company's idea generator is weird, too. But it's weird in a funny way.
For example, we entered "jewelry" again and received the following suggestion: "Why Kim Kardashian Will Never Be Good At Jewelry."
That might be true, but beyond that the generator provides running commentary about the various phrases and words it put into the title.
As an example, a bubble just above Kim Kardashian's name reads: "Headaches: a known side effect after reading or hearing her name."
If you're not happy with the first suggestion that the Portent tool offers you (and hopefully you're not if it includes Kim Kardashian's name), feel free to hit the "regenerate" icon and see another headline. You can keep regenerating headlines until you find one that you like.
The second headline we received is: "Why Jewelry Is The Secret Ingredient."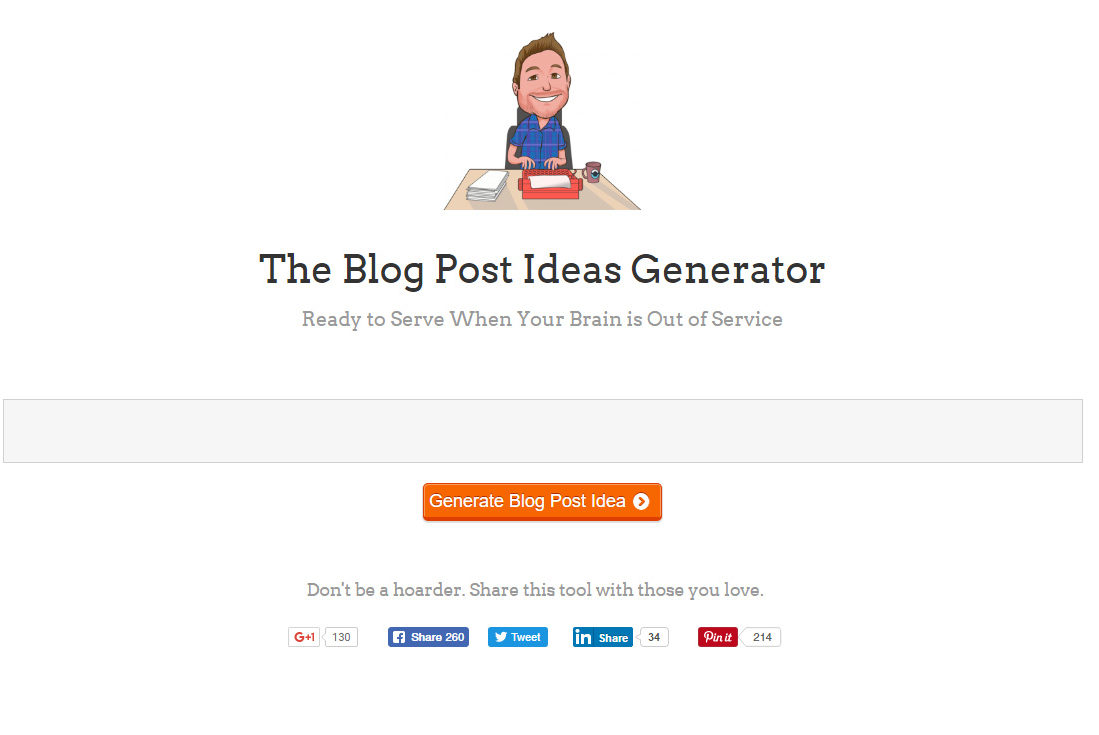 If you want to get some ideas for your blog without even entering a keyword or search term, then maybe The Blog Post Ideas Generator is exactly what you're looking for.
All you have to do when you fire up that tool is click a button. Nothing else.
Sometimes, though, the generator will give you results that require you to literally fill in the blanks. For example, one of our ideas was: "My Favorite Place On Earth Is…"
Clearly, you're going to have to finish that title.
Also, it's worth noting that people in your target market might not even care about your favorite place on Earth. The Blog Post Ideas Generator seems to be better suited to mommy bloggers than businesses trying to build a brand.
That said, it might be a good place to visit if you've got a really nasty case of writer's block. Although the generator might not offer a perfect title for your audience, it might give you a nudge in the right direction.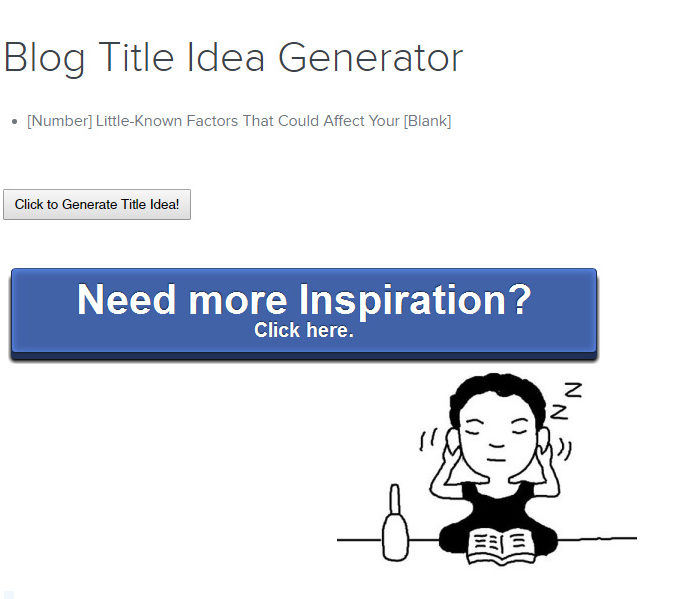 Inbound Now is a digital marketing company that offers its clients landing pages, lead tracking, and marketing automation. It also hosts a blog title idea generator.
The tool is unimaginatively named the Blog Title Idea Generator. As with the previous option, you also won't need to enter any keywords to get your idea.
Just head over to the app and you'll immediately see a title on the page. In this case, you won't even have to press a button.
The first title we got was: "[Number] Harsh Realities Of [Keyword]".
So, as you can see, users will still need to fill in the blanks. In fact, with this title, there are two blanks.
If you don't like the title that you received, that's no problem. Just click on the "Click to Generate Title Idea!" button and you'll get a brand new title.
Our second title was: "Do You Make These Common [Keyword] Mistakes?"
That's a little better than the first option. Obviously, you'll want to fill in "[Keyword]" with a word or phrase that's relevant to people in your target market.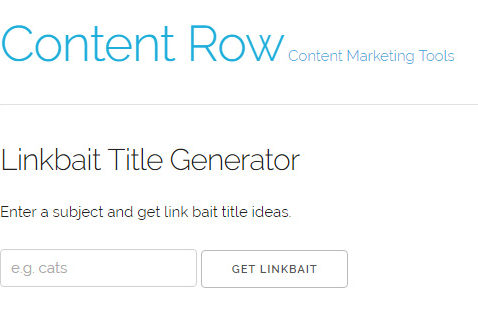 How can you go wrong with a name like "Link Bait Generator"?
It's another option where you click to pick. Just enter your subject and get a wide variety of titles that are meant to act as clickbait.
The results are not always perfect, though.
For example, we entered "jewelry" into the subject line and received at least a couple of dozen options. Leading the list was this not-so-workable title: "Why Jewelry Is Destroying America."
Unless your audience consists of people who are part of a very primitive religion, that title probably won't generate much appeal.
Keep in mind, though, that part of the attraction of a tool like Link Bait Generator is that it just uses random clickbait-like phrases with the subject that's provided. Sometimes, it will produce a winner.
Farther down in our list, we saw this title: "11 Ways Investing In Jewelry Can Make You A Millionaire." That option actually has some potential.
Certainly, it's better than the third option: "Why You Should Give Up Sex And Devote Your Life To Jewelry."
If you don't like the options that the tool gives you, just click the "Get Linkbait" button to retrieve a whole new list of titles that will hopefully include a couple of options you like.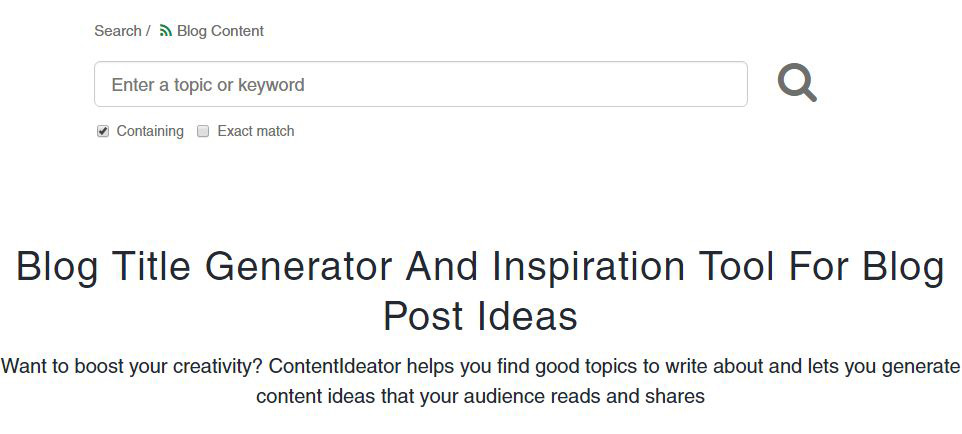 Despite its awkward name, ContentIdeator is a great place to look for blog subject inspiration. It also differs from the other options in that it's not quite so "random."
Just head over to the website and enter a subject of your choice. Click the search button and you'll receive much more than a variety of slapped-together words and phrases that include your topic.
Instead, you'll find actual titles from around the Interweb. More than that, though, the tool also provides you with the number of social shares for each title so that you can gauge the popularity of each option.
Unfortunately, that information is blurred out unless you fork over $29 per month to see the exact number of shares. The company is probably using a tool like BuzzSumo to determine social share count and it passes that cost on to its users.
Still, even if you want to use ContentIdeator on the cheap, you'll get a variety of blog post titles that can certainly feed your muse. You can also click on each of the titles to read the articles and generate even more inspiration.
When we searched on "jewelry," we received a variety of great ideas, including this one: "'Game Of Thrones' Star Emilia Clarke Fronts Dior Jewelry Campaign."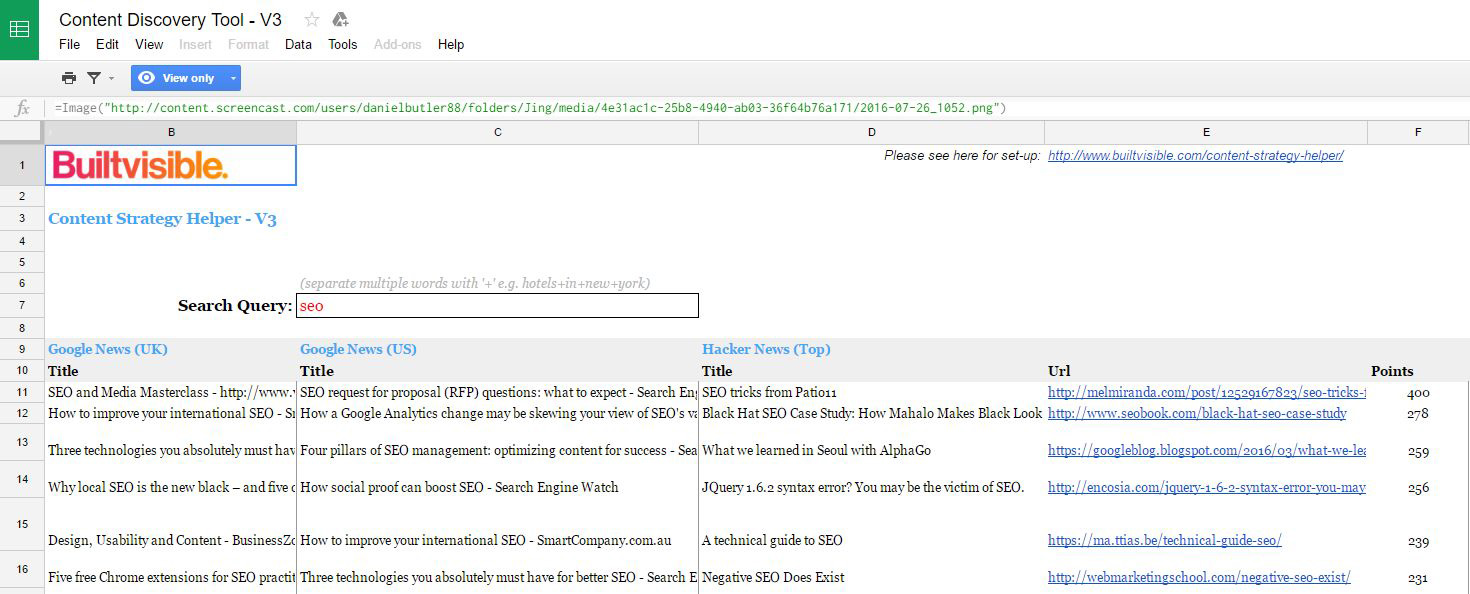 The Content Strategy Helper might be one of the best options for gathering ideas about blog posts.
But you're going to have to work for it.
That's because it's not a cloud-based tool like the other options. Instead, it's a Google Doc.
Yes, a Google Doc.
To use the Content Strategy Helper, you'll need to login to your Google account and visit the existing Google Doc that acts as a template. Then, make a copy by clicking on File>Make a copy…
Name the copy anything you want for now. The important thing here is that you have your own version of the doc that you can edit.
Once you've made the copy, you still have some work to do before you can use it to find ideas. On your new copy of the doc, click on Tools>Script editor…
That will take you to a page containing a lot of code that you won't be able to understand unless you're a professional software developer. You'll need to replace that code with some new code.
Visit this page to grab the new code. It's a simple copy-and-paste operation. Just make sure that you highlight only the code on that page and not the entire text.
Once you've copied the code from the page, just paste it over the original code in your Google Doc. The simplest way is to select all the existing code on your page and then overwrite it all by pasting in the new code.
Now, select File>Save from the script window to save your changes.
Once you're done with that, you can finally use the tool to get some ideas. Just go back to the spreadsheet and find the cell highlighted in red (it probably has "seo" in it right now). Enter your own search term and hit Enter.
As you can see, results are categorized by source. You'll see titles from Google News, Hacker News, Reddit, Digg, YouTube, YouGov, How Stuff Works, and others.
It's a great "go to" source for inspiration once you've moved past the up-front requirements to get the tool working.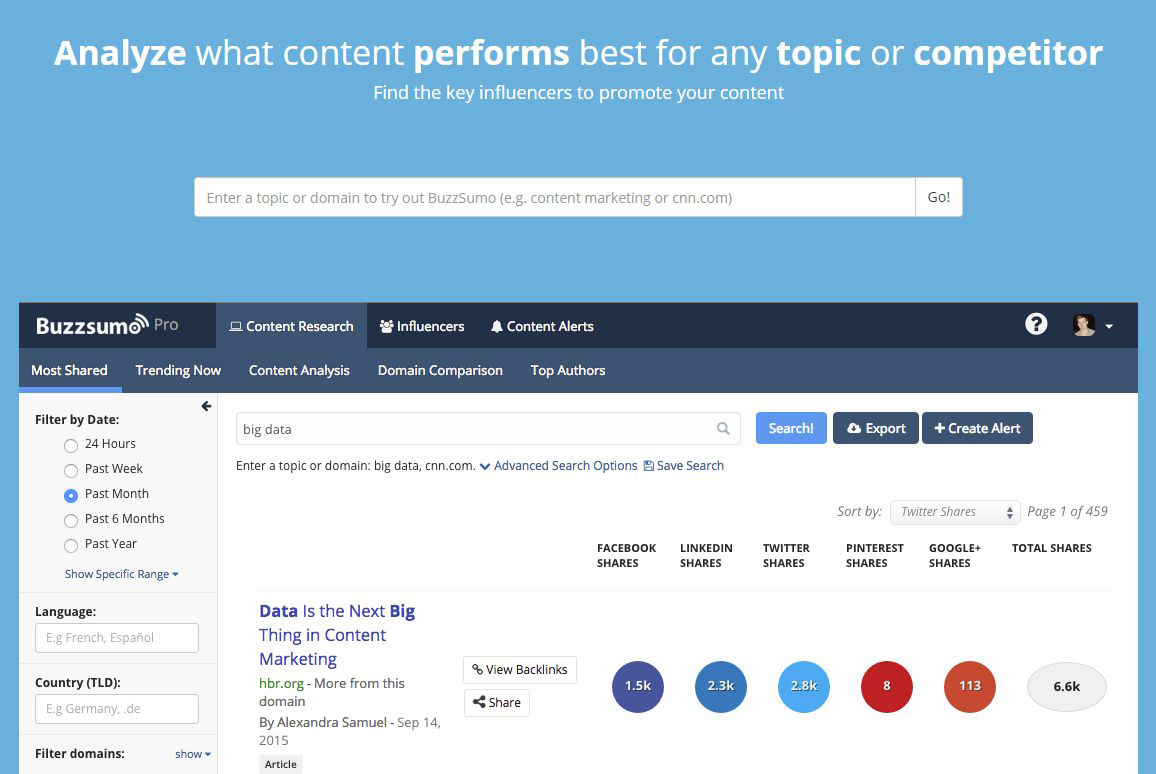 We've already mentioned BuzzSumo in this list because it looks like the ContentIdeator uses BuzzSumo to deliver its results. If you like what you see from ContentIdeator, you might be inclined to bypass the middleman and go straight to the source.
BuzzSumo is a premium tool that will provide you with a variety of online titles related to any niche. Even better: it displays social share stats so that you can see the number of engagements/shares for each title.
Why is that important? Because it gives you an idea about how well a title you're considering is likely to perform. If a similar title worked well in the past, then it's more likely to perform well in the future.
For example, when we searched for "jewelry," we saw this title from BuzzFeed: "19 Stunningly Weird Pieces of Anatomy Jewelry." That's a great option for a blog about jewelry if it hasn't already covered the subject of anatomy jewelry. Even better: that blog post received more than 81,000 Facebook engagements.
Of course, the downside to BuzzSumo is that it costs money. However, if you take your content marketing seriously, then you might find it's worth the investment.
Right now, the cheapest BuzzSumo plan is offered at $99 per month. If you find that too pricey, have another look at the ContentIdeator plan offered at $29 per month.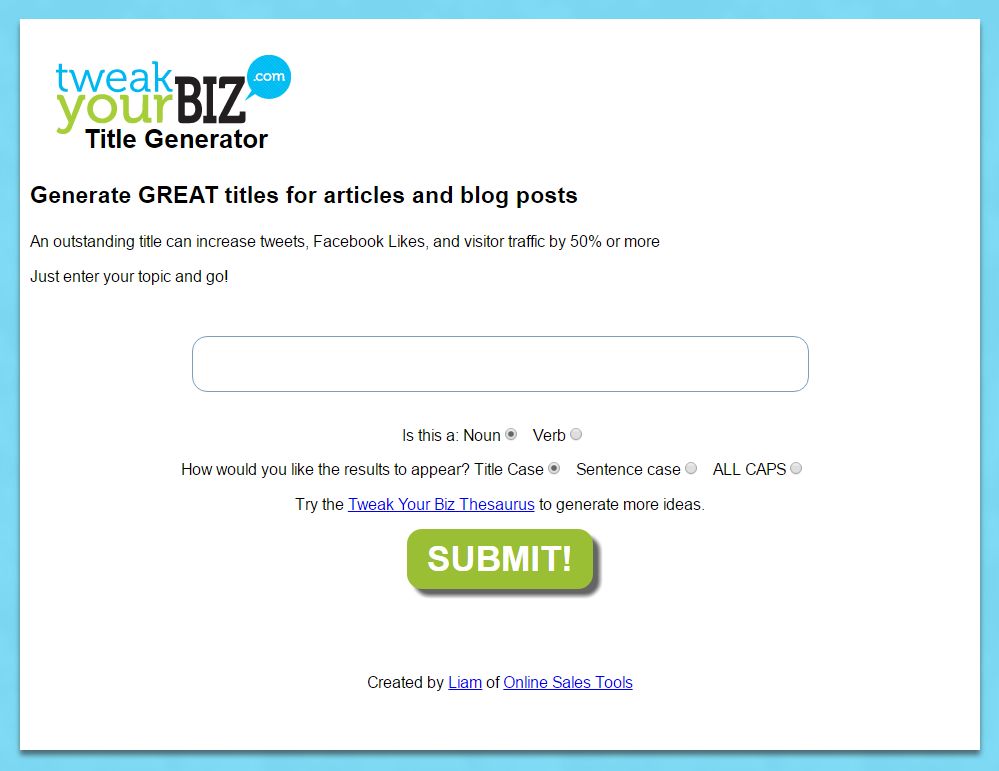 If you're tired of some of the other title generators that force you to click a button repeatedly until you get a title you like, then have a look at the Tweak Your Biz Title Generator.
To use the tool, just enter your subject or niche, click the big, fat "Submit!" button and you'll receive countless titles on one page.
Even better: the tool provides all the titles in the text area so that you can just copy and paste them to a text document. It also gives you the option to print or download them.
One really convenient feature is that the title generator separates your suggested titles into popular groupings. There's a listicle group, a "how to" group, a "best" group, a celebrities group, and several others.
When we typed "jewelry" in the search bar, our titles included "Apply These 8 Secret Techniques To Improve Jewelry," "Best Jewelry Android Apps," and "Sexy Jewelry."
There are also some ridiculous options, such as: "14 Days To A Better Jewelry."
Still, with a list that includes as many options as this tool provides, it's likely that any struggling blogger will find some great ideas.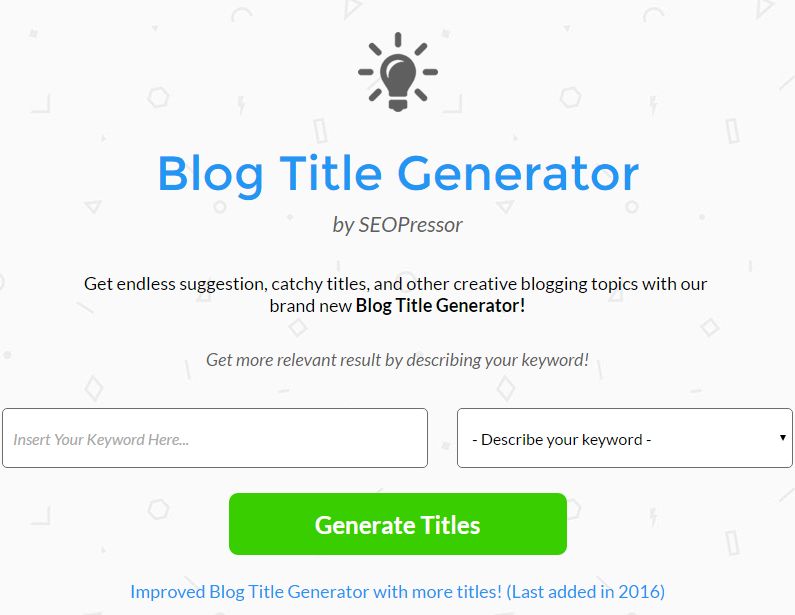 One final tool that will give you some ideas for blog posts is the SEOPressor Blog Title Generator.
It's a little more sophisticated than some of the other options in that it doesn't just ask you for a keyword, but also offers a drop-down so you can describe the keyword. Current options you can use to describe your keyword include:
Generic term
Brand/product
Event
Industry
Location
Person's name
Skill
Once you've entered your keyword and selected your description, just click on the big "Generate Titles" button to see some titles.
When we entered "jewelry" and used "brand/product" as the description, we received the following titles:
Seven Advantages Of Jewelry And How You Can Make Full Use Of It.
Ten Shocking Facts About Jewelry.
Here's What People Are Saying About Jewelry.
Everything You Need To Know About Jewelry.
7 Ways To Tell You're Suffering From An Obsession With Jewelry.
There are definitely some options we can work with in that list.
If you don't like what you see, there's a "refresh" button at the top of the list you can use to generate another five titles. You can keep on clicking that until you find a few titles that interest you.
Another bonus: the tool allows you to email yourself a list of all possible blog titles. Of course, when you do that, you'll provide the website owner with your email address and no doubt find yourself on the site's email distribution list. That's good marketing.
Wrapping It Up
If you're at your wit's end when it comes to generating great ideas for blog posts, let technology be your guide. There are numerous tools available online that you can use to generate inspiration for some click-worthy titles. In most cases, it's just as easy as entering a subject and clicking a button. In some cases, it's even easier than that.